Würth Prize of Jeunesses Musicales Deutschland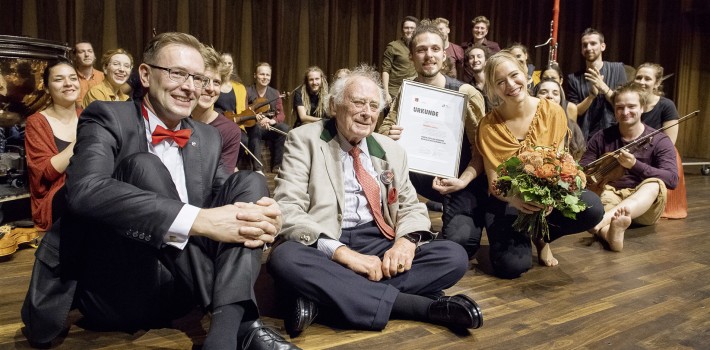 In September 2018, the Würth Foundation awarded the orchestra STEGREIF.orchester the Würth Prize of Jeunesses Musicales Deutschland (JMD), endowed with EUR 15,000. "The musicians of STEGREIF.orchester see a sacrilege more in the fact that music—that has been around for a long time and has become so self-evident to us—is consumed casually and without understanding rather than being dissected curiously and questioned anew with regard to its individually inspiring aspects. This process is revealed to the audience in order to take them on this journey of discovery. Familiar performance conventions are replaced by a staging that clarifies the musical discoveries, making this sonorous reflection appear as a new, conclusive concept of a dynamic artistic product," according to the JMD Presidium.
The award was presented by Professor Reinhold Würth and JMD President Johannes Freyer at Carmen Würth Forum in Künzelsau. The prize has been awarded since 1991.
​ ​