"Treffpunkt Forum"
(Meetings at the Forum)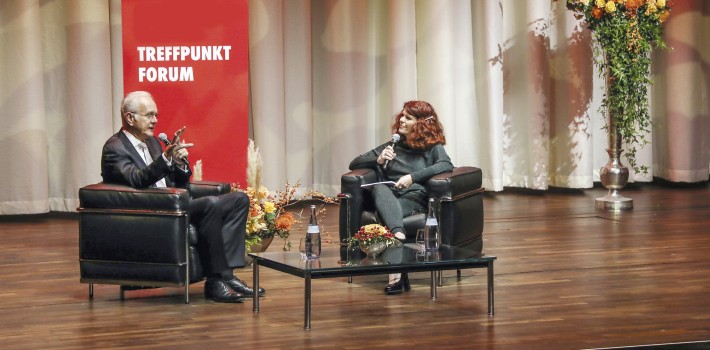 As part of the "Treffpunkt Forum" series of talks, late-night legend Harald Schmidt was a guest at Carmen Würth Forum in November 2018. The sharp-tongued, quick-witted, hilarious and, in the true sense of the word, outstanding comedian answered questions posed by presenter Bernadette Schoog. The 61-year-old had a lot to share. He looked back on his childhood in Nürtingen and talked about how he had almost driven his parents to despair. He analyzed the fast pace of the market: Some technologies are already outdated the moment they are installed. "The only things that last are screws,"—one of many entertaining remarks that evening.
"Treffpunkt Forum" is a series of talks organized by Akademie Würth for employees of the company, as well as for interested members of the public. Prominent guests from business, politics and society discuss current topics. Wolfgang Niedecken, Guido Knopp and Harald Schmidt were guests in 2018.
​ ​